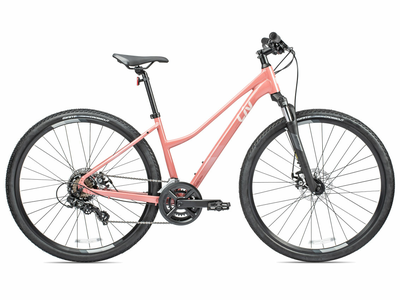 MAIN STREET, SIDE STREETS OR FOREST TRAILS. YOUR CHOICES ARE LIMITLESS WITH THE VERSATILE ROVE. KEY PERFORMANCE FACTORS Dirt-Road Ready A suspension fork offers more comfort and control when you leave the pavement for gravel and trails. Stability and Control Responsive, reliable disc brakes help you keep your speed in check, even in wet weather. Useful Integrated mounts let you attach a rear cargo rack, and the low standover height makes getting on and off less a hassle when you're running errands by bike.
With its confident, flat handlebar positioning and lightweight ALUXX aluminum frame, Roam Disc gives you all the best qualities of a mountain bike and a road bike. Its front suspension and new D-Fuse seatpost absorb road shocks and vibrations, adding comfort and control. It has powerful disc brakes and durable components, so it can take some bumps on rough city roads. And the fast-rolling 700c wheels can handle smooth roads or dirt with less risk of a flat tire, making it a great choice for town-to-trail adventures.
FOLLOW YOUR OWN ROUTE, WHEREVER IT MAY LEAD. WITH STABLE FLAT BAR POSITIONING AND DISC BRAKES, ROAM DISC HANDLES ALL TYPES OF TERRAIN AND UNLIMITED ADVENTURES. KEY PERFORMANCE FACTORS Agility and control Updated flat-bar frame geometry puts the rider in a position that balances efficiency with stability, and disc brakes give you added control on rugged roads or dirt. Smooth-riding comfort The D-Fuse seatpost and suspension fork absorb road shocks and vibrations, and EasyRide Tubeless tires let you run lower pressure for a smoother ride quality and a reduced risk of flats. Integrated rack mounts Compatible with rear racks, allowing easy cargo capacity for daily trips or longer treks.